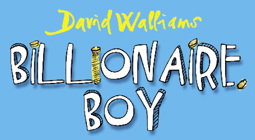 A Play by Maryam Master

Based on the book by David Walliams
A CDP Kids Production
"…shenanigans that deliver a positive message, Billionaire Boy reaches both funny bones and hearts." – Artsplorers

 David Walliams' best-selling book hits The Art House in the original Australian adaptation from the team behind Mr Stink and The 13, 26, 52 and 78-Storey Treehouses. Featuring spectacular musical numbers and lots of laughs, this highly entertaining production will make you feel like you have won the lottery!
Twelve-year-old Joe has everything a boy could ever want, from a golden underwater Ferrari to his very own cinema. Together, he and his Dad have more money than you could imagine, but what Joe really needs is a friend.
When Joe arrives at his new school, life really gets tough. Facing the school bully, his Dad's new girlfriend and the world's worst school canteen, Joe is about to learn that money might buy you a lot in Raj's shop, but it can't buy you everything.
Billionaire Boy by David Walliams, published by HarperCollins Children's Books. Cover Illustration © Tony Ross, 2010 Lettering on authors name © Quentin Blake, 2010